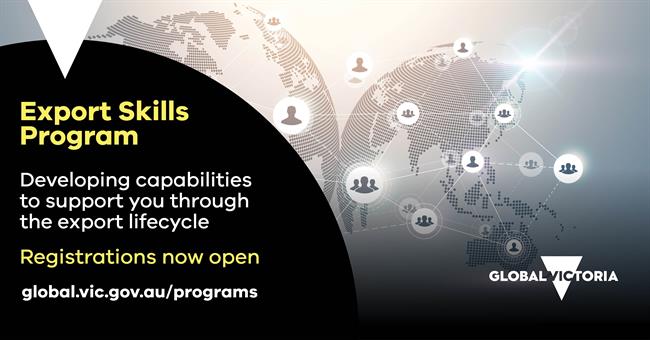 As part of the Victorian Government's $15.7 million Export Recovery Package (ERP), the Global Victoria Export Skills Program has been created to help Victorian businesses impacted by coronavirus (COVID-19) to grow and develop their export skills and capabilities.
The Export Skills Program is open to all Victorian (Australia) companies regardless of their size and location within the State of Victoria, and whether new to exporting or experienced companies looking to refresh skills and capabilities.
eCOMMERCE SELF-PACED LEARNING ONLINE COURSE
A key component of the Export Skills program is a self-paced learning eCommerce course. This course is open for attendance by all Victorian (Australia) companies and is free to attend.
To register for the self-paced online eCommerce course, please complete the registration form below. Please ensure to enter your ABN with no spaces.
Any personal information collected, held, managed, used, disclosed or transferred will be held in accordance with the Privacy and Data Protection Act 2014 and other applicable laws. You may contact us to request access to your personal information, or for other concerns regarding the privacy of your personal information, by emailing collinsrex@GTPAlliance.com.
Information is collected only to register you for the eCommerce self-paced learning course.