Festival of Inclusive Trade back in 2021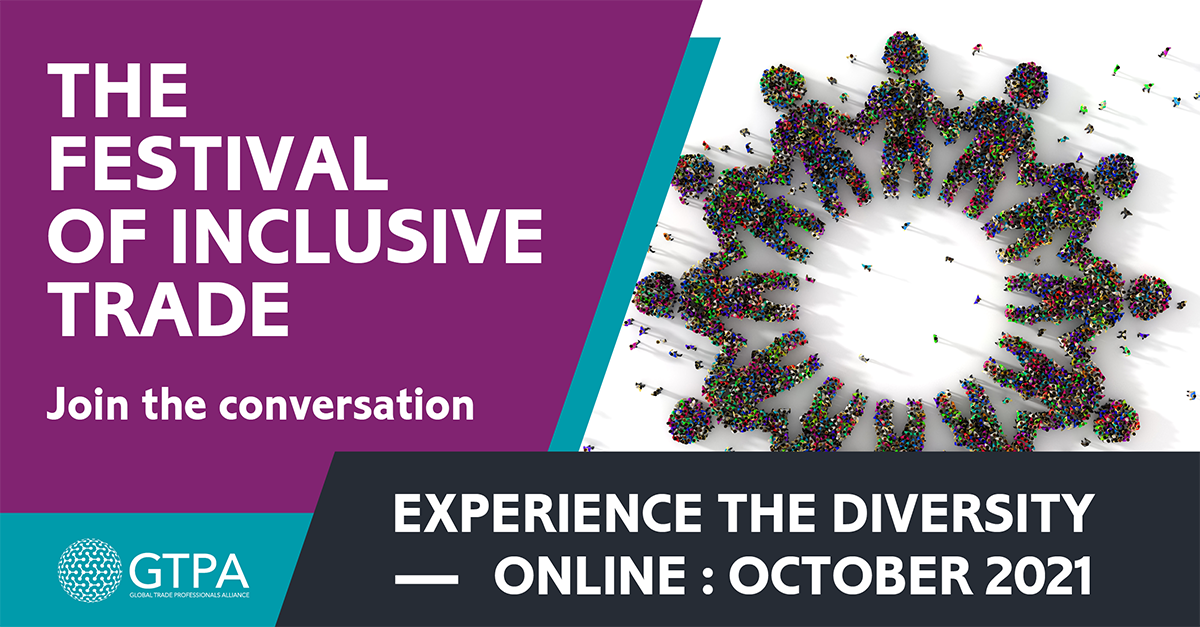 The Festival of Inclusive Trade is an initiative of the Global Trade Professionals Alliance and is being held online over two weeks, from 18 October 2021; all events are free to attend.
Inclusive trade refers to the principle that all levels of society should gain from increased trade. It promotes the inclusion of groups that may currently be marginalised or challenged in their ability to engage with international trading opportunities. Consequently, the Festival of Inclusive Trade focuses on four main groups often excluded from the benefits of international trade:
Women
Youth
First Nations
Diaspora communities
The Festival is an online celebration and an examination of all things inclusion, and trade. It includes robust discussions on the concept of inclusive trade and the issues facing those on the margins, but it also highlights the achievements of those so often excluded from international trade.
With the creative industries sector accounting for 7% of the world's GDP (according to the International Trade Centre), and creativity being key to innovation, and a driver for sustainability and prosperity, the Festival also highlights this sector by featuring art that transcends boundaries, particularly that created by women, young people, and members of indigenous and diaspora communities around the world.
This year – acknowledging the role of the environment in the sustainability of trade and economic growth – we're also inviting events specifically focussed on environmental issues.
Over the course of two weeks in October 2021, the Festival will:
Feature keynote presenters across a range of thought-provoking, stimulating, and sometimes, provocative, issues
Feature virtual moderated panel discussions around the key issues of inclusive trade
Feature fireside chats with people who have interesting stories to tell, including lobbyists, artists, trade professionals, and industry leaders
Host capability building webinars for representative businesses wanting to enter global value chains
Feature the stories of successful representatives of businesses across all four groups: women, youth, indigenous peoples, and diaspora communities
Feature a curated a mini online festival of inclusive creative arts, including music, visual art, the written and spoken word, and film
Panel members, moderators and presenters are drawn from representative groups from a range of economies, both emerging and developed. In addition to commissioning work specifically for the Festival, the GTPA is also inviting artists across all creative genres to collaborate and have their work featured.
We would be honoured to have you as a part of the Festival. You could, for example:
Deliver a keynote presentation
Participate in a fireside chat
Host a panel discussion
Suggest a case study/ies to feature
Contribute a work of art
Of course, we would accommodate any role you wish to take!
Last year's inaugural Festival of Inclusive Trade featured close to 70 high calibre events, 93 individual speakers/artists (and an entire symphony orchestra!) from 80 countries. The Festival was attended online by well over 1,200 delegates from across the globe, and recorded session videos have been viewed over 10,000 times.
For a glimpse of the 2020 Festival, please visit www.GTPAlliance.com/Festival.
Should you require any further information, please contact Collins Rex at collinsrex@gtpalliance.com to arrange a time for us to have a conversation.