Request completed. Fetching the festival content.
Harnessing Digital Skills of Women Entrepreneurs
COVID-19 has affected the lives and livelihoods of many women entrepreneurs, more so of those who are in the informal sector. Therefore, to enable them to brave the COVID impasse it is necessary to help them acquire the necessary skills and information to be resilient.
The importance of digital skills has been ever increasing but the pandemic has brought urgency to the fore. The digital skills that were considered to be additional skills became one of the necessary skills to possess in all facets of life. As companies shift their businesses to e-commerce platforms due to COVID-19 and the subsequent lockdown, women entrepreneurs struggled to develop their online and digital skills, and especially those concerned with marketing, selling on the Internet, or selling their product on e-commerce websites. Disasters like COVID-19 laid bare the need to leverage digital technologies and extend their existing business by advertising their products online reaching a larger clientele.
To ensure all women businesses are able to harness digital skills and stay competitive in the global market, the promotion of new innovative and creative solutions on e-commerce is the need of the hour. This is what experts from South Asia and beyond will discuss.
Panel:
Moderator : Dr. Mona Shrestha Adhikari, Chief Executive Officer, EMERGE
Ms. Surakchya Adhikari, Chief Operating Officer and Co-founder, Thulo.com
Ms. Sristi Joshi Malla, Chairperson SAARC Business Association of Home Based Workers (SABAH) Nepal
Dr Rajan Sudesh Ratna, Deputy Head South and South West Asia Office, UNESCAP New Delhi, UNESCAP
Ms. Collins Rex, Director, Global Trade Professionals Alliance (GTPA)

Event Partner
Moderator:
Dr. Mona Shrestha is the CEO at EMERGE, a consulting company in Nepal. She has more than two decades of work experience in the private sector and non-government organisations and international organisations, across many countries.
She has also designed, implemented, and monitored various projects related to the empowerment of women's businesses and has mentored and provided skills on business management, gender equality, and social inclusion in business, among others. Dr. Shrestha believes in equitable, inclusive, and sustainable socio-economic development and is passionate about women's empowerment.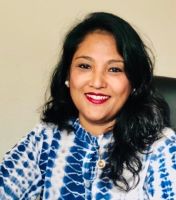 A strong advocate for the economic empowerment of excluded women, Ms. Sristi Joshi Malla firmly believes that if women are given an opportunity, they can outshine themselves either individually, or through enterprises. She is known as a versatile all-rounder for her innovative ideas and multifaceted talents that result in various outstanding programs, products, and initiatives.
Sristi is the Chairperson of the SAARC Business Association of Home Based Workers (SABAH Nepal). She is involved in diverse networks such as HomeNet South Asia, BEES, Global Compact Nepal, and Women Friendly Disaster Management Core Group. She has spoken at diverse forums internationally including Singapore Fintech Festival, Good Pitch, ICIMOD, and South Asian Women's Alliance. She also served as a Board Member of Women's Fund Asia.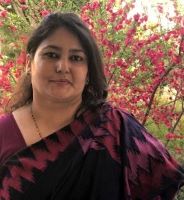 With a mission to empower women producers/ entrepreneurs, Ms. Surakchya Adhikari is moving ahead with her expertise in providing access to an innovative e-commerce platform, consulting, mentorships, and training in the field of e-commerce for women-led Micro Small and Medium Enterprises (MSMEs), to help start, run and grow. Currently, she is operating a successful e-commerce marketplace - Thulo.Com as the Co-founder and Chief Operating Officer since 2016.
She leads the implementation of international projects focused on the digital transformation of women-led businesses through her e-commerce venture and has been recognized as Women to Watch 2020 by WOW magazine for her work in the field of e-commerce and women empowerment.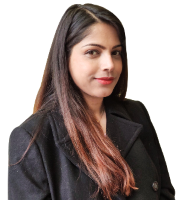 As a Deputy Head of South and South-West Office of UN ESCAP, New Delhi Dr. Rajan Sudesh Ratna is leading research, policy advisory, and capacity building, especially for women-led MSME for using digital marketing and e-commerce platforms for promoting their business and becoming part of regional and global supply chains.
He earlier worked in Trade, Investment, and Innovation Division in Bangkok. From 2008 to 2010 he worked as Professor and Head, Centre for WTO Studies, Indian Institute of Foreign Trade, New Delhi. Dr. Ratna is an Indian civil servant and had worked for 25 years in the Government of India, mostly in the Ministry of Commerce handling the trade policy issues and trade negotiations in WTO and FTAs. He has written many books and published several papers in peer-reviewed journals.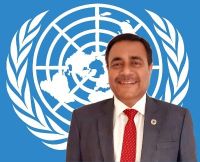 Ms. Collins Rex is the owner of ideas generator and actuator, Rex Ideas, and a Director of the Global Trade Professionals Alliance (GTPA). Collins has owned and operated highly successful communications and consultancy businesses on two continents, and in her professional capacity assists clients across a range of international training, marketing, product development, and communications areas.
Collins has for some 20 years been involved in the ICT industry, through associations with Australian technology firms and various ICT industry clusters (several of which she initiated and managed). She sits on the international advisory board of the Netherlands-based eCommerce Foundation, and she is a member of the World Customs Organisation's Working Group on eCommerce.