APEC Global Supply Chains Resiliency Survey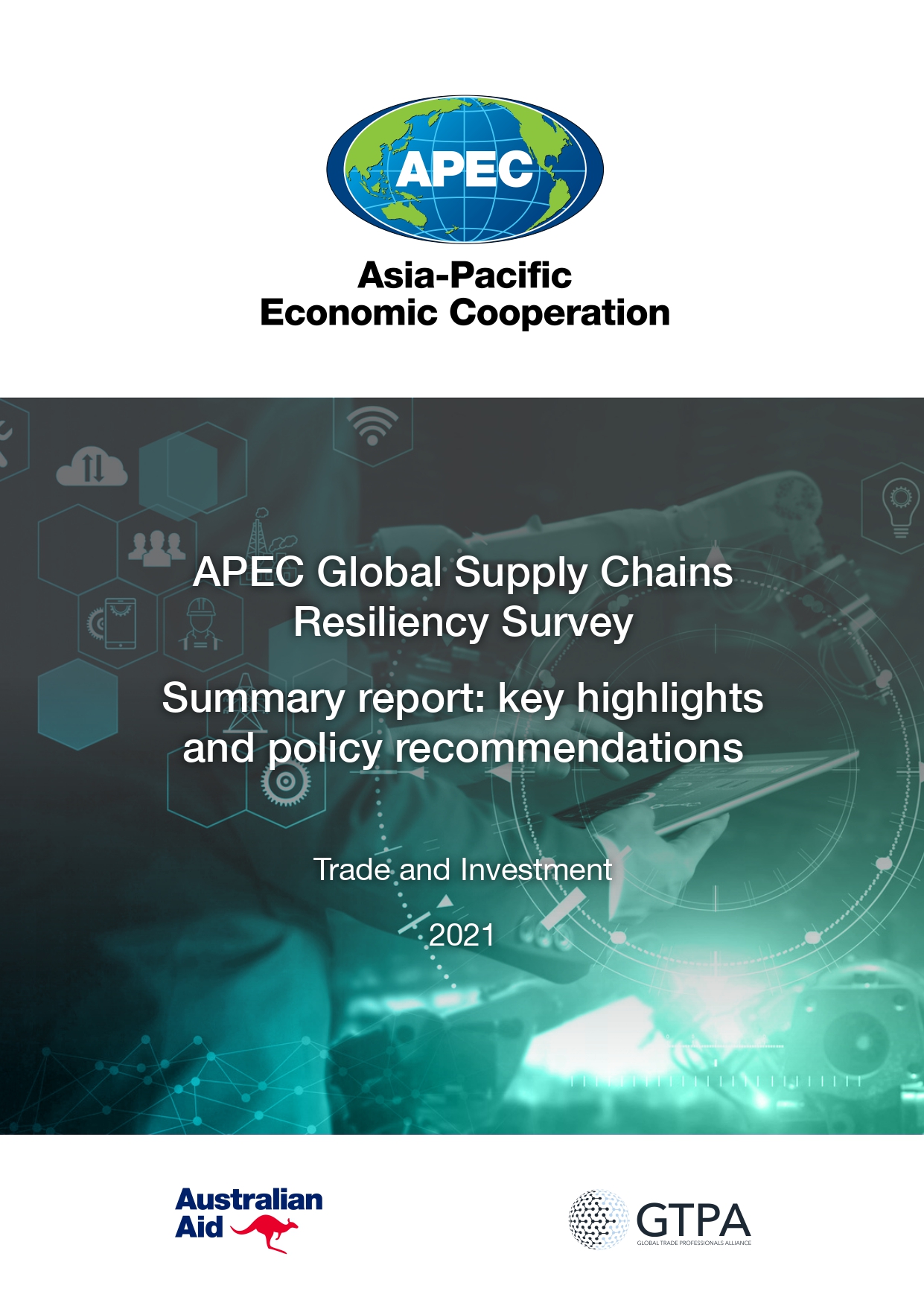 KEY TRENDS REPORT
Disclaimer
The information and data used in the report were gathered from a public survey. The opinions and conclusions are the views of the authors of this report. The analysis and recommendations in this report do not necessarily represent the views of APEC member economies.
Introduction
This report summarizes the key trends from the APEC Global Supply Chains Resiliency Survey, which surveyed large businesses1, SMEs2 and industry & government organisations. It also offers a series of policy recommendations. The survey was conducted between 25th July 2020 and November 30, 2020. A total of 1511 responses3 were received, divided into 911 for the SMEs survey, 188 for the Large Businesses survey, and 312 for the Industry & Government organisations survey. As well, 106 respondents replied that they do not participate in global trade.
Of the responses, 31% were from Australia, 18% from Japan, 11% from the Russian Federation, 6% from Indonesia and 4% from the United States.1 The rest were divided amongst other economies. The enterprises surveyed reported operations in a total of 82 economies worldwide.
The survey was supported by the Department of Foreign Affairs and Trade (DFAT) of the Australian Government and implemented online by GTPA and North Carolina State University (NCSU) Supply Chain Resource Cooperative.
Executive Summary
The magnitude of the disruptions caused by the COVID-19 pandemic on global supply chains has no comparison in modern history. What started as disruptions in some supply chains of specific manufacturing sectors, quickly extended to supply chains all around the world across multiple industries and sectors. The restrictions imposed to avoid the spread of COVID-19 also had a direct impact on other international and domestic economic activities, greatly hindering global economic growth and trade flows. The International Monetary Fund (IMF) projects global growth at -4.4 percent in 2020, with a more gradual recovery in 2021 than previously forecast (IMF 2020)4.
To read the FULL report click HERE.