GTR East Africa 2021 Virtual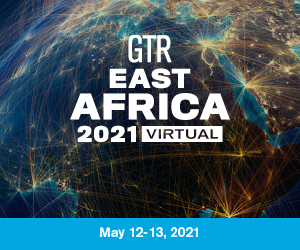 Following the success of the inaugural virtual event in October 2020, GTR East Africa will return once again in digital form for 2021, taking place on May 12-13, 2021.
Utilising GTR's bespoke virtual event platform, this online gathering promises expansive networking and a comprehensive programme of live and on-demand content, welcoming the leading practitioners in trade, agribusiness, supply chain and commodity finance.
Join industry experts from across the region to explore the latest developments, strategies and solutions employed to drive East Africa's covid response, trade growth, and economic recovery.