GTR US 2021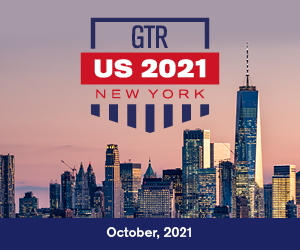 GTR US is returning to Manhattan on December 8!
Long established as the United States' leading trade and supply chain financing conference, GTR US 2021 will once again bring together a host of trade, treasury, tech and risk management experts to explore the pressing issues impacting on US commerce, from ongoing supply chain disruption and the latest developments around decarbonization, sustainability and ESG, to the regulatory challenges facing the US trade and supply chain financing sector and the continuing drive for trade digitization and automation.
This hugely anticipated in-person event promises unparalleled networking opportunities with the sector's most prominent experts, all within a Covid-safe environment in-line with the latest government regulations. For those seeking to catch up with old friends and forge fresh connections while gaining practical insights into the future of US trade and supply chain financing, this event is not to be missed!
Discussion themes include:
Supply chain diversification
Digitization, AI & machine learning
Inventory financing
Trade credit risk analysis
Sustainable supply chain finance
Alternative trade liquidity
Register HERE.